Asymmetric Bridge
---
Назначение – передача данных между 3д приложениями
Разработчик – компания A-VFX? (Москва)
Операционные системы – Win, Linux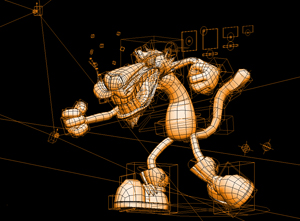 Asymmetric Bridge – Is fast and reliable way to transfer model and animation data between 3d applications. It is designed for vfx production companies with more than one 3d package in their pipeline.
Asymmetric Bridge is able to seamless transfer polygon meshes, UV coordinates, and animation between software packages much faster than standard ways.
With Asymmetric Bridge you are sure you may get your objects or entire scene to any supported application. No exploded models, no legs being pushed through character head during import. All the same objects in the same places.
Simple export and import of objects or entire scenes with graphical user interface. Flexible scripting commands are also provided to fit an existing pipeline.No skeletons, no bones, only needed geometry for lighting and rendering since animation is already done.
With Asymmetric Bridge you can easily work together on the same scene. Using custom bridge nodes it's possible to load changes made by other artists with just a few mouse clicks without rebuilding or even closing your scene.
The ability to reload lots of objects and animation just with one mouse click in Bridge is great when working on the similar shots. In case you have same objects in several shots you can easily use new animation and camera data. Just enter a new path in UI and press "Reload" button!
Free Demo:
Supported software:
Key features:
Fast data processing
Transferring of characters and props between 3d applications.
UV transfer (animated uv's are also supported)
Character animation transfer
Camera transfer (animated cameras are also supported)
Ability to reload animation and model data without rebuilding a scene from scratch.
Baking complex animations.
Baking dynamic simulations.
Ссылки
Скриншоты